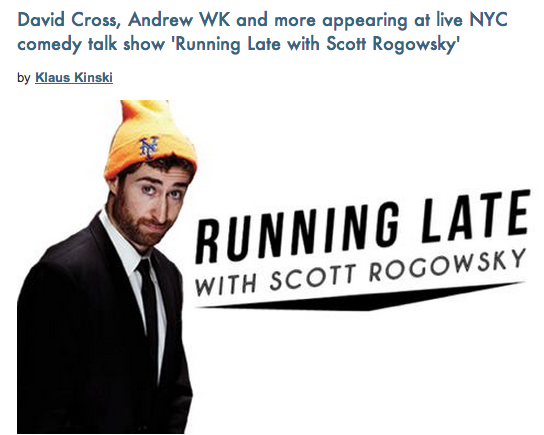 The Galapagos era begins in earnest on March 28 with David Cross, Andrew W.K., Alan Zweibel, and Scott Wiener, but a line-up that formidable poses an equally magnificent problem: how to follow-up such an awesome show? Thankfully, we've arrived at an answer: by booking an even awesomer one! Catch us on April 11 at 8pm with stand-up juggernaut Jim Gaffigan, Pulitzer Prize-winner Anna Quindlen, and studly actor David Call. Ticket link will be up soon. In the meantime, CLEAR YOUR iCAL.


The crowds are gathered in Rome; billions the world over are waiting with bated breath. It all comes down to this… THE FINAL RUNNING LATE SHOW AT THE PEOPLES IMPROV THEATER!
Thurs, March 14, 9:30pm featuring
HARI & ASHOK KONDABOLU (Untitled Kondabolu Brothers Podcast)

TRIESTE KELLY DUNN (Cinemax's Banshee)

MARK MALKOFF (My Damn Channel)

JOSH GONDELMAN (@SeinfeldToday)

Plus a special unannounced appearance by
LEVI MACDOUGALL (Important Things with Demetri Martin)

If you've never been to The PIT, you better go to this show, because after tomorrow you'll never have another occasion to go there again!