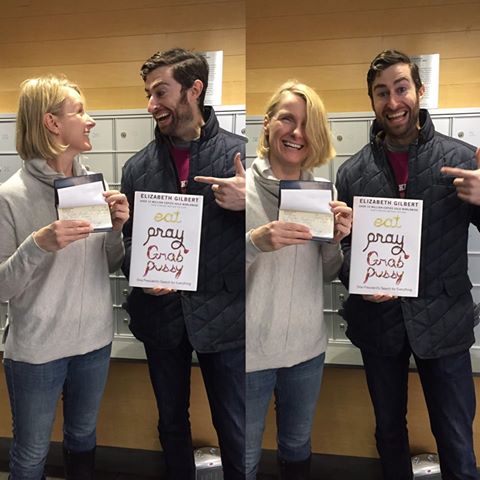 Just when you thought social media was good for nothing but cyber-bullying, hoax-spreading, and feuding with Piers Morgan, a story comes along to restore your faith in 140-character communication.
Last week, I released the third installment in my viral "Fake Books on Subway" series with titles that take aim exclusively at the incoming president and his administration – titles like "How to Succeed in Business Without Paying Your Contractors," "No Country for Anyone Other Than Old White Men," and "So I'm Unemployed But He's The F*cking President? The Billy Bush Story."
As an extra insult to Trump and his supporters, an epilogue in the video explains that all of its YouTube ad revenue is being donated to the ACLU and Planned Parenthood.
One of the books caught the attention of Elizabeth Gilbert, author of the blockbuster best-selling memoir Eat, Pray, Love. The title that hooked her: Eat, Pray, Grab Pussy.  I woke up on January 13 with a tweet from @GilbertLiz waiting for me: "I loved this! Any chance u have the original? I want to carry it at #WomensMarch. Trade it for #PlannedParenthod donation?"
I immediately replied via Direct Message and plans were made to meet up in Manhattan for an exchange. I was simply thrilled to hear she wasn't going to sue me for copyright infringement!
Yesterday, on MLK Day, I found himself in the lobby of a doormanned East Village apartment building waiting to meet the woman who was portrayed by Julie Roberts on the big screen, and just when I thought I was the one being pranked this time, Elizabeth Gilbert stepped out of the elevator with her checkbook in hand.
We hugged and started chatting breezily, swapping compliments of each other's work. "There have been so many parodies of my book, the title just lends itself to it so easily," Liz admitted. "But yours is my new all-time favorite! Better than The Simpsons and South Park!" I cooly took this news in stride (jk I was floored).
Further dropping my jaw, Liz cut a check on the spot for $5,000 to Planned Parenthood in my name, in exchange for the book cover. We posed for pictures and made plans to reunite at The Women's March in DC on Saturday. That's right! I'll be there too! Elizabeth Gilbert single-tweetedly inspired me to join the march!
I never imagined one of my silly Internet prank videos could motivate real change in the world. That Gandhi guy might have been onto something, huh?
Credit to Arthur Hickman for the design.